California Central Valley Origins
Don Neely was born in Fresno, California. From his earliest recollection, Don can remember sitting in the coolness of his schoolteacher-grandmother's parlor, attentively listening as she played her favorite Tin Pan Alley songs on the piano for him, in the stride-style of the 1920s. Some years later Don's family moved to the small northern California town of Hollister. Away from the continual influence of his grandmother, he nevertheless carried with him the memory of the charming music that she had played for him in that sweltering Central California town.
Budding Antique Collector
At age six, Don began to take piano lessons from Hollister's only music teacher. As a young boy, Don worked in the family business, the Hollister Soda Works, which supplied Nehi, RC Cola and Falstaff beer to the town's markets, restaurants and bars. After school, he sorted and crated the returned, empty bottles which were then shipped back to the big bottling plants, thereby earning himself a nice bit of pocket money. These funds enabled him to pursue some of his interests and a passion for vintage music and a love of turn-of-the-century antiques topped his list. At age twelve, already a veteran haunter of local flea markets, he purchased a wind-up Victrola and began collecting scores of 78 rpm records featuring jazz bands, vaudevillians and dance orchestras.
New Musical Passion
He found the music exciting and intoxicating, so full of humor, exuberance and variety. Don was drawn in by the infectious rhythm, clever and whimsical lyrics and tuneful melodies. Among his favorite recordings were those of the Paul Whiteman Orchestra. He listened to them, lying on his bed in his antique-filled bedroom, becoming a zealous convert and fantasizing about that far-off day when he might be able to play this music himself.
Unusual Young Fellow
Don took up Ballroom Dancing at age thirteen, and enjoyed it so much that it is reported he was the only one to be seen fox trotting at the high school sock hops. Don participated in school talent shows attempting to combine music with comedy. Taking up the clarinet, his study of music broadened and his High School days were spent listening to classical music, where he developed a penchant for the music of the Baroque and Renaissance eras.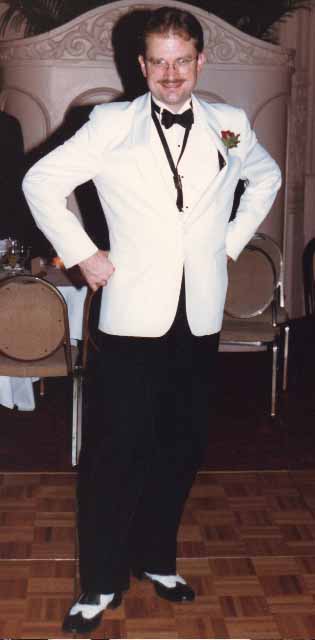 After switching to the study of the saxophone at Gavilan Jr. College, Neely, was accepted for a summer job at Disneyland to play in the All American College Marching Band. Thereafter, he attended San Jose State University as a music major. Shortly before completing his music degree in 1975, there came a night which was to change everything. Don, went to see a Woody Allen film, which featured as it's theme song, Cole Porter's song, "Let's Misbehave," a rendition performed by Irving Aaronson's Commanders. It reawakened in Don his deep love for this syncopated music which he had carried with him since his childhood.
Connection to the Past
Flushed with enthusiasm, he arranged a meeting with an old bandleader friend of his in Gilroy, a real character, who operated the town's music store and had had a territory band with his two brothers in the 1920s and 1930s, performing in the Monterey, Salinas and Santa Cruz areas. The old gentleman had kept everything from his band leading days, including his custom Art Deco music stands, arrangements, and publicity material. Don acquired some pointers and period musical arrangements from his helpful friend and immediately set off to find and persuade ten of his musical colleagues to begin reading and learning the old charts. The Royal Society Jazz Orchestra was born!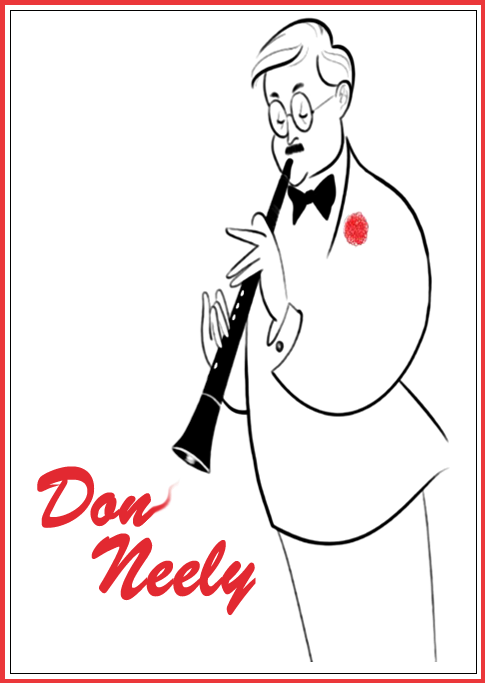 The RSJO Is Born
During those next few grueling months in the practice room at the music department, the concept of how to play the style, capture the phrasing, tone and vibrato and above all, the exuberance of the period, slowly began to penetrate the minds of the eleven music students. It was a pretty shaky start but one thing was certain, they liked the music. They finally made their debut in a local pizza parlor and were paid the ungodly fee of, you guessed it, pizza and beer. Much still had to be learned about the music and the band basically "grew up" together doing it. Some less-than-memorable performances lay ahead. After graduating, Don shared a house with three other bachelor R.S.J.O. bandsmen in San Jose, living a life filled with music and not a few parties.
Venturing Out
The Royal Society Jazz Orchestra remained for a number of years, a time-consuming and passionate hobby for Neely, who plays clarinet, sax, and sings with the ensemble. Don began his rewarding career as a music teacher at this time, working in Palo Alto public schools, and enjoyed giving private music lessons to more than forty pupils a week. But as the orchestra grew in skill and understanding, word soon spread about the band's uniqueness and they began receiving invitations to play jazz festivals, concerts, ocean cruises, San Francisco society parties, and to make recordings.
Turk Murphy's San Francisco Club, Earthquake McGoon's
San Francisco jazz legend, Turk Murphy, discovered Don's band and offered them a regular engagement at his famous club, Earthquake McGoon's. Then Don added vocalist Carla Normand to the band's roster. Later that year, the two were married and Don moved north to San Francisco.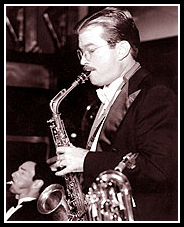 San Francisco
The RSJO's popularity continued to swell, and Don and his band were featured in numerous national and local television, newspaper and magazine stories. S.F.Chronicle's Herb Caen, frequently wrote of the band's appearances and that newspaper's Society Columnist, Pat Steger noted the many social events at which the R.S.J.O. performed. Another milestone for Don came with a long-running engagement on Nob Hill, at the Mark Hopkins Hotel, in the Peacock Court, where most of the famous big bands had played during the 1930's. Don and the band recreated a long and successful series of Tea Dances with live radio broadcasts simultaneously transmitting over two radio stations. More attention from the public followed which led to an amazing period of non-stop work and travel. Don and the orchestra starred in an hour-long PBS television special, a superb production recreating an authentic Art Deco night club, with their San Francisco fans making up the dancing audience.
Don Neely was asked by the San Francisco Fairmont Hotel, to organize a jazz sextet to play five nights a week at the famous New Orleans Room. He and his Royal Society Six enjoyed a successful three-year engagement, entertaining locals and visitors from around the world. With an excellent compact disc, the ensemble performs at events all over the San Francisco Bay area.
Don Neely has made sixteen recordings as a bandleader, all featuring authentically performed vintage Jazz and Swing. Don Neely, with his musical ensembles, strives to bring to the public the pure joy that is to be found in the discovery of this exciting music.