The Musicians
Musicians from left to right: Bob Embry, Kent Mikasa, Brent Bergman, Steve Apple, Andrew Storar,
Richard Mathias, Frederick Hodges, Dix Bruce, Carla Normand, Marty Eggers, Don Neely.
Frederick Hodges
California native Frederick Hodges specializes in the piano music and popular songs of the ragtime era, the 1920s, and 1930s Classically trained and groomed for a career as a concert pianist,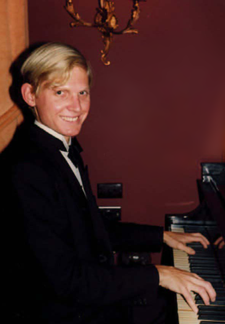 he was happily lured away from this path after he discovered a stack of 1920s sheet music in this grandmother's piano bench. Exposure to the rollicking rhythms of player pianos and 78 RPM phonograph records sealed his fate, and he set out to master the ragtime and novelty piano playing styles that had captivated him. While still an undergraduate at UC Berkeley, he was hired by Don Neely to serve as pianist and singer with the famed Royal Society Jazz Orchestra. Soon, Frederick was playing solo piano for society parties and holding down steady engagements at legendary Nob Hill establishments such as L'Etoile in the Huntington Hotel, Masons in the Fairmont Hotel, and the Ritz Carlton Hotel. Frederick also plays piano with the Peter Mintun Orchestra and with jazz ensembles. Frederick has displayed his unique piano playing and singing talents on stage, on television, and in Hollywood movies. He has had the honor of performing for stars of stage and screen, royalty, captains of industry, and even Tin Pan Alley composers. He is a favorite at jazz festivals around the country.
Marty Eggers
Marty Eggers is well known on the West Coast as a top-notch ragtime pianist and bassist. Marty's music career began in Sacramento where as a teenager he helped found the Sacramento Ragtime Society. Besides performing as a solo pianist, Marty plays with a number of traditional jazz and ragtime groups, most notably the Royal Society Jazz Orchestra, the Yerba Buena Stompers and the Black Diamond Jazz Band. Since 1997 he has been the bassist for the Butch Thompson Trio, which became nationally known in the 1980s as the "house band" for the National Public Radio show "A Prairie Home Companion." Recently he has worked and recorded with the great blues, boogie and jazz pianist Carl Sonny Leyland. Marty performs around the country as part of the Tichenor Family Trio with his wife, pianist Virginia Tichenor and her father Trebor, also a pianist. They have recorded an album of piano solos and duets, aptly called "Family Album".
Marty's talent and versatility have led him into several varied and prestigious engagements, from recording with San Francisco traditional jazz legend Bob Helm to touring Germany with Hal Smith's California Swing Cats to playing both piano and bass in a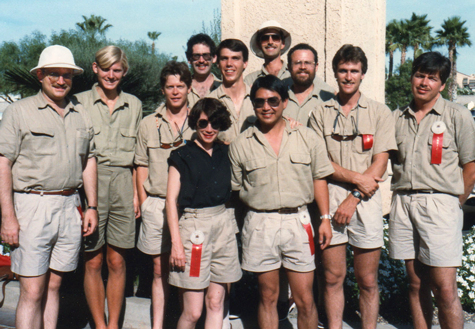 Bay Area backup band for Leon Redbone.
For ten years Marty was the bassist for the popular ragtime trio Bo Grumpus. Marty has appeared on over a dozen full-length commercial CD albums, and has been a "guest performer" on many more. He is also a skilled composer and arranger of ragtime and traditional jazz.
Bob Embry
Bob Embry was born in Portsmouth, Virginia and lived in England, Massachusetts, and Kansas as a child. His family was musical, all members sang and his mother, though a registered nurse by profession played boogie-woogie and standards of the 20's, 30's, and 40's on the piano. Bob began music study as a violin and viola player, but soon felt drawn toward hot jazz, big band music, and New Orleans jazz from listening to his mother's records. He acquired a victrola and began collecting old recordings in his early teens similar to Don Neely, RSJO leader, and began playing an old metal clarinet purchased in a junk shop. He took up saxophone soon after and formed several assorted jazz bands while in high school. While a music student at the University of Oklahoma at Norman, he was a co-founder and reed-player of at least two traditional jazz bands, the "Six-Finger Dixieland Band' and "Mint Julep", both of which achieved local success, "covering at least a few blocks", according to Bob.
After moving to California in 1981, Bob met up with the newly-founded "Blue Street Jazz Band" and played the circuit of festivals with them for nearly twelve years, as reed player, music director and arranger, and occasionally violist and pianist. With Blue Street Bob performed all over the US, Canada, and Europe. Some of Bob's many influences have been black gospel music, and the great vocalists and crooners such as Bing Crosby, Billi Holiday, and Louis Armstrong. Reed players that he admires include Lester Young, Sidney Bechet, Johnny Dodds, Irving Fazola, Jimmy Noone, and the great Chu Berry to name but a few. Bob remains a big fan of the early big band and hot jazz ensembles of the '20s and '30s, ranging from Paul Whiteman to Jimmie Lunceford. Bob greatly enjoys performing with the RSJO as it offers lots of chances to harmonize as well as solo. Bob holds a Bachelor's in Music Education from Oklahoma University as well as a Master's in Conducting from Cal State.
Kent Mikasa
Kent was born and raised in Stockton, California. During his grade school years, his parents encouraged him to study music and so he took up piano. Eventually, the trumpet lured him away and he has never laid it down. In high school Kent played with a local Dixieland band, Port City. Kent attended San Jose State University, majoring in music and where he became principal lead trumpet player in the orchestra. Don Neely was a fellow music student. After graduation he joined the Glenn Miller Orchestra and toured all over the world. He returned to the U.S. and began to teach music privately and in the Palo Alto school district. In 1983, he joined the Royal Society Jazz Orchestra. Kent has performed in many other groups including the above mentioned Glenn Miller Orchestra, Churchill Street, Royal Society Six and has backed up stars like Frankie Lane and the Mills Brothers. For many years he was principal instructor and camp director of the Claude Gordon International Brass Camp, a week-long intensive workshop for brass players. Kent lives in Fremont, California.
Andrew Storar
A California native, Andrew grew up in the small town of Castro Valley, fifteen miles east of San Francisco. He took up the trumpet at age nine. With his father"s encouragement, he began to take private lessons from local teachers and to participate in school bands and orchestras. After graduating from High School, Andrew enrolled as a music major at California State University Hayward, studying trumpet performance and music education. During and since his college years, Andrew has focused more of his playing in the area of jazz. From backup groups for Della Reese and Doc Severenson to eight-piece Traditional Jazz band and small group work. In 1988 he joined the Devil Mountain Jazz Band. From that experience, he learned of the music of traditional jazz composers such as Jelly Roll Morton, Joe King Oliver, Lu Watters and others. Andrew was particularly infuenced by the trumpet works of Bob Scobey, Harry James and Chet Baker. In 1995, Andrew joined the Royal Society Jazz Orchestra. He teaches music in Castro Valley public school and gives private lessons. He and his wife reside in Alameda, California.
Dick Mathias
Dick Mathias is a woodwind doubler who works in a variety of musical genres, including classical chamber groups, orchestras, theater pit orchestras and jazz groups. He is a woodwind instructor at the Nueva School in Hillsborough, and the Branson School in Ross. Dick studied composition at the San Francisco Conservatory of Music. His work, "Spies!", was recently premiered by "Sounds New", a contemporary music ensemble for which Dick is clarinetist.
Dix Bruce
A native of Madison, Wisconsin, Dix attended the University of Wisconsin and majored in film, radio and television. Dix credits his grandfather with introducing him to music and providing him with early instruction on the guitar. Dix lived upstairs from his grandfather and remembers fondly, the sound of his grandfather"s guitar playing, carrying up through the heat register. He moved to the San Francisco Bay Area in 1974 where he has worked as a musician, composer and teacher. Dix plays guitar and banjo for the Royal Society Jazz Orchestra which he joined in 1987. He has authored eighteen instructional books, sound recordings and videos for Mel Bay Publications including his own series of play-along rhythm section CD/book sets, BackUP TRAX. Two of these, the popular Traditional Jazz and Dixieland set and the Early Jazz and Hot Tunes set, feature the rhythm section and cornetist Kent Mikasa from the Royal Society Jazz Orchestra. These were created for the beginning improviser, who needs the experience of playing along with a traditional jazz rhythm section. In addition to making several CDs with the RSJO, Dix has also released his own recordings of other traditional american musical styles. Dix resides with his wife and daughter in Concord, California.
Brent Bergman
Brent was born in Oakland and raised in Berkeley, California. His love of music started when he began singing in the church choir. Later, in sixth grade, after trying the piano and the flute his mother encouraged him to take up the trombone. In high school, Brent joined the California High School All Star Jazz Band, played bass trombone with the San Francisco Symphony Youth Orchestra and toured Europe twice with the Berkeley High School Brass Quintet and sang with the Concert Chorale. Brent attended University of California Berkeley and majored in humanities with an emphasis on classics. Brent was introduced to traditional jazz in 1987 when he started playing on Telegraph Avenue in Berkeley with sprtit of '29. Brent has played with many other bands including Black Diamond, Churchill Street, and San Francisco Starlight Orchestra. He joined the Royal Society Jazz Orchestra in 1993. Brent works as an Information Systems Specialist and lives with his wife in Walnut Creek, California.
Steve Apple
Steve started playing drums at the age of five, on a toy drumset supplied by his very tolerant mother. In 1975, at age 14 he joined the Churchill Street Jazz Band, which at that time was made up of students at Palo Alto High School under the guidance of veteran banjo player Bill Armstrong. (He was invited to join the band by tuba player Jeff Wells, who of course later joined the RSJO). In 1979, after graduating from high school he joined the Royal Society Jazz Orchestra, having met Don Neely through his association with Churchill Street. He has also played extensively with other Bay area Traditional Jazz bands such as Professor Plum, Magnolia Jazz Band, and the Jelly Roll Jazz Band, as well as recording with various studio groups for Stomp Off Records. There are unconfirmed reports that Steve has been sighted playing drums in Country-Western bars as well. He'll say only that the RSJO is by far his favorite band. He cites Davey Tough, Ray Baduc and early Gene Krupa, as well as Chicago's Wayne Jones and former bay area drummer Hal Smith as his major influences. He enjoys playing a supportive role for soloists, vocalists and ensemble work. Steve lives with his wife and three children in Mountain View, California.
Jeff Gilbert
Jeff Gilbert was born in San Francisco and raised on the San Francisco Peninsula. At the age of 13, Jeff met up with Vaudeville great, Vivian Duncan, of the Duncan Sisters. Vivian who was in her late '70s, shared her knowledge and love of popular muscic with Jeff. At age 24, Jeff enjoyed performing with Rex Allen's Orchestra and started to freelance around the Bay Area. In 1986, he left California to sing with the Tony Barron Orchesta for a tour of the mid-west. Returning to California, Jeff began a two and a half year stint at the Hotel La Rose in Santa Rosa. He attended the Rudy Vallee safe opening at Rudy's house in the Hollywood hills. At the event, Jeff sang a medley of Vallee's hits and the L.A. times wrote "Rudy Vallee was the first crooner and Jeff Gilbert is the last crooner." Jeff won the Crosby Croon-alike contest in San Francisco in 1989 and 1990. In 1988, Jeff began appearing with the Royal Society Jazz Orchestra.