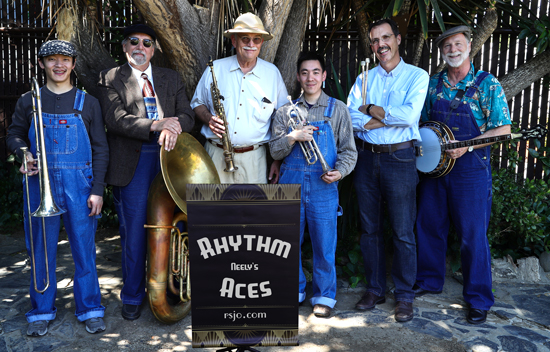 F
or more than 30 years, Don Neely has been recognized as a pioneer of the 1920s and early '30s "Hot Dance Revival." He and his Royal Society Jazzz Orchestra, founded in 1975, have performed at every major event in San Francisco, including trad jazz festivals and clubs around the country and internationally, concertized on tour, and have been featured on radio and television. They have also recorded over 300 songs.




Don now shares his love of the small group jazz bands of the 1920s and '30s with his Rhythm Aces. The NRA still plays the same great music with an emphasis on melody and hot two-beat and four-beat styles of the era. They dress in vintage style work clothes. Don Neely likes to call their music "Blue Collar Jazz." You'll hear trad jazz standards, great pop tunes, forgotten gems, as well as some Don Neely originals. All great for dancing.




The name of the group is inspired by a combination of Jabbo Smith's Rhythm Aces and the National Recovery Administration of 1933, NOT the National Rifle Association. So, to set the tone, the group dresses in authentic blue collar WPA Chic. We think you'll find Neely's Rhythm Aces to be refreshingly different.