Carla Normand Keeps Sunny Despite Parkinson's

To all who have donated to my GoFundMe Campaign, I want you to know that I would not have been able to consider any of the current therapies if it hadn't been for YOU! Every donation uplifts my spirit, and enables me to add another piece to this complex PD puzzle. I hope to reach my GoFundMe goal as I continue to explore all avenues I can to control my symptoms, and get to the root of this mysterious condition.
At recent performances, it was wonderful to see so many of you. My song choices were varied and I gave it my all - despite my hands shaking. And no, I have not added "Shaking The Blues Away" to my repertoire -- not yet. :) I am grateful that Parkinson's has not stolen my voice ( and I hope it never does! ) as I plan on performing with the Royal Society Jazz Orchestra into the future, and continue to lend my voice to the RSJO's wondrous music, which has brightened so many lives.
Some of you have inquired about my eye-opening journey as I try to peel back another layer of the Parkinson's conundrum. I feel like I'm just beginning to scratch the surface of what is known and available - research, theories, therapies, diets, herbs, physical exercise, what may have contributed to my condition, and much more. It is quite overwhelming. But I do have hope as I attempt to leave no stone unturned in my quest. I'll keep you posted.
Am I Grateful?
"Absolutely, Positively, and How!"

to quote a well-known 1920s song title.
I hope you will consider contributing to my GoFundMe Campaign. I am deeply moved by your generosity.
Please share this message with anyone who may like to contribute to my campaign!
Or send check to:
Carla Normand
750663
Petaluma, CA 94975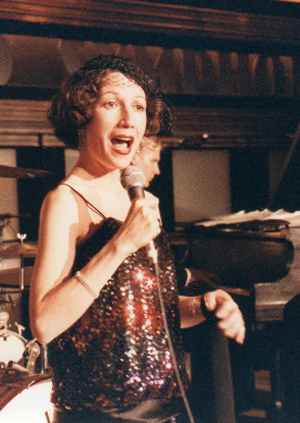 Listen To
Songs
Carla Normand was born in St. Louis, Missouri. Her family moved to Southern California when she was two years old, and Carla grew up in the town of Huntington Beach.
Father's Influence
Normand's father, who had as a young man enjoyed a career as a professional musician, playing tenor saxophone, clarinet and violin, exposed her to the sound of early jazz, by playing his 78rpm recordings of Fats Waller, Paul Whiteman, Benny Goodman and others, and carefully pointing out the soloists and composers. She remembers him saying to her during those late night record sessions, "You may not see the value of knowing about this music now, but when you grow up, you will." Carla is grateful to her father for his early influence. In fact, her father was her violin teacher during her elementary school years. Music was always playing in their house, from Broadway musicals, classical to early jazz.
San Francisco
Her dream, during her high school years was to move up to San Francisco, which she did soon after high school graduation. Normand engaged in a number of occupations; proprietor of an antique and collectable shop, coordinator for a senior citizen transportation service and finally, after studying commercial art, becoming an illustrator. During this time, Carla had grown enthusiastic about swing and vintage jazz. This passion was fueled by the once-popular, now extinct radio station KMPX-FM, which played that music exclusively and provided background information on the artists they featured. Carla built up a record collection and listened for endless hours as she worked at her drawing board.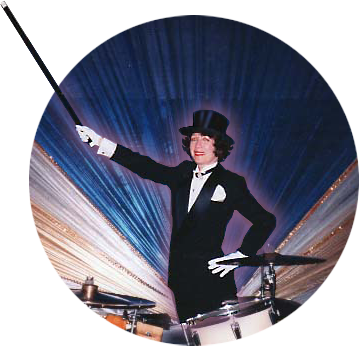 Felt the Fear And Did It Anyway
When Normand turned twenty-five, she decided to do what she had really always wanted to do, but had been too shy to undertake. She started taking singing lessons for the first time in her life. Her efforts were inspired by her love of the melodic and expressive singing styles of such Art Deco-era artists as Ruth Etting, Connie Boswell, Bing Crosby, Mildred Bailey and Lee Wiley, the swinging deliveries of the likes of Helen Ward, Helen Forest and Ella Fitzgerald.
She cajoled pianists to rehearse with her, pursuading a couple of them to study the older style of piano accompaniment, a la Teddy Wilson and Fats Waller, to better compliment her singing style. Normand began appearing in clubs in San Francisco, performing her vintage songs in her vintage style.
Meeting Don Neely in San Francisco
For years, Carla had greatly admired Don Neely's ten-piece Royal Society Jazz Orchestra and was fascinated by their spirited and faithful renditions of syncopated and swing big band music. One night, after hearing about Normand, Don Neely came up to San Francisco to see her perform in a small cabaret in San Francisco's Castro District. He was impressed with what he heard. Later that year, to Carla's great delight, Neely asked her to join his orchestra. Shortly thereafter Frederick Hodges joined the band and contributed his amazing pianistic and vocal talent, and whimsicality.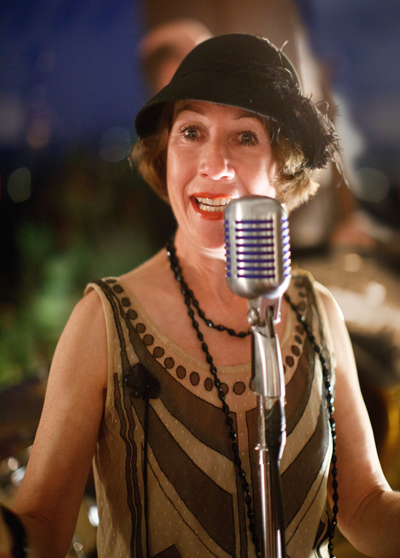 Carla Joins The R.S.J.O.
Since that time, Carla has recorded eight compact discs, six with the Royal Society Jazz Orchestra and one with the Royal Society Six. Her solo album entitled, "Just You, Just Me," features love songs accompanied by an outstanding sextet led by Don Neely. Featured in numerous local and national television, newspaper and magazine stories, she also co-starred in a 1-hour PBS television special with the Royal Society Jazz Orchestra, a superb production recreating a 1930s nightclub with their San Francisco fans making up the dancing audience.
Carla's concert and other performances with the orchestra have taken her all across the country. Normand and the R.S.J.O. have enjoyed long-running engagements at Turk Murphy's famous jazz club, Earth Quake McGoon's, The Mark Hopkins Hotel on Nob Hill, where they recreated a successful series of authentic Tea Dances in the Peacock Court, broadcasting simultaneously over two radio stations, and the Claremont Hotel in Berkeley. Carla has appeared with the orchestra at several San Francisco Black and White Balls, opening nights for the S.F. Symphony, S.F. Opera, S.F. Ballet, ocean cruises and scores of San Francisco society events.
Artistic Interests
Carla continues pursuing her interest in art. Her illustration studies paved the way for her talent as a painter in watercolors to emerge. Ceramics became a big passion, as well as designing lamp shades, and learning to make plaster molds for her Craftsman-style ceramic lamp bases, which clearly showed her that one thing can lead to another until you find yourself on a long journey of exploration. Recently, she began delving into black and white portrait photography which has enabled her to develop her eye beyond anything she had ever imagined.